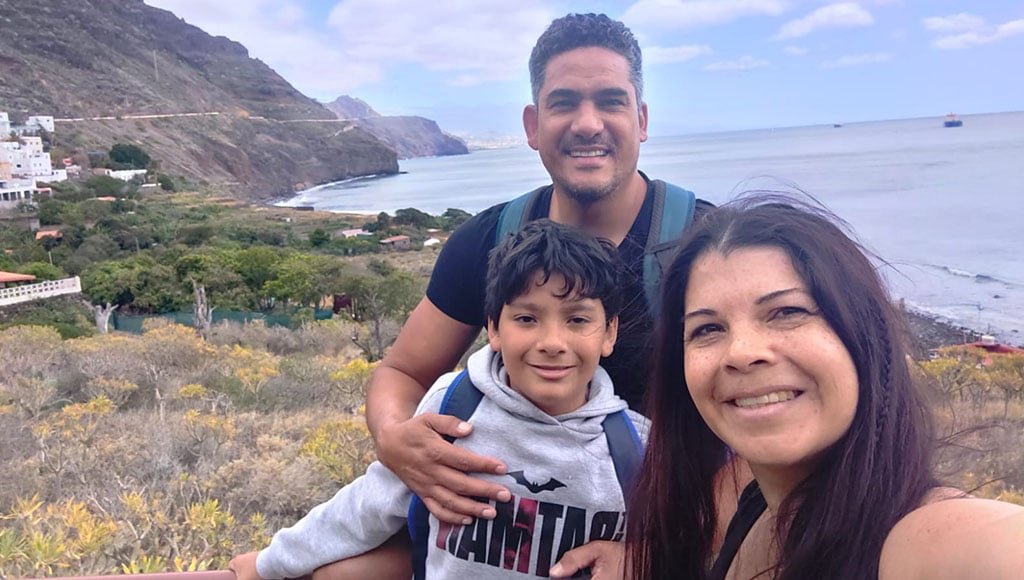 Elizabeth came to Tenerife two years ago with her husband and 9-year-old son. They came from Chile, where they had arrived from Venezuela, a country they left for both economic and political reasons. This asylum-seeking family is one of the cases that came to the program that Provivienda manages in the capital and that is aimed at families at risk of exclusion, helping them on their way to stability that allows them to have a roof under which to live. Elibeth came to this resource from the hand of Caritas after a time living in rented rooms, friends' houses and even spending a night on the street with her little boy and her husband as soon as they arrived on the island.
Elibeth tells DIARIO DE AVISOS how that arrival was, just a few days before the world stopped due to the pandemic. "We ended up staying in a room in Chío (Guía de Isora), and within days of being there the pandemic caught us." She relates that her intention was different when they arrived, but things did not go as expected. "We gave some money for a flat, but they cheated us, we lost that money, and we went eating the savings. With COVID, zero work, we had a very complicated situation. We entered through the international protection asylum application system, and from that date until today we have been constantly renewed every six months with a red card, "says this 45-year-old Venezuelan.
Elibeth remembers as if it were yesterday what happened in that first year on the island. "They took us out of Chío's room, and he had to spend a night on the street. The hotels did not receive us and we had nowhere to go. From there we went from room to room sleeping, in the house of acquaintances, because we have no family here, until we arrived at Cáritas with Pastor Pepe". And it is that the priest of Añaza, as everyone knows the popular priest José Hernández, as Elibeth admits, "did us a great favor in the midst of the crisis", a favor that was none other than "letting us stay with African women in a flat in Añaza".
There she and her family spent a very short time. "It was a resource only for women, and I was with my husband, it was very complicated. Thanks to the City Council, through my social worker they put me in contact with Provivienda".
In the interview with the social workers of Provivienda, she told her story. "We broke down crying, my husband had never cried, he broke down because they had been in this situation for two years." From that interview they went straight to an emergency apartment, shared.
And things began to improve. "They gave us a fabulous follow-up, where they set you goals, challenges. They told me that I was going to leave right away because with the tasks I get on very quickly. We had already legalized a series of documents, and I got a job, which was one of the requirements to move from that flat to the other one where we are now, where we are now independent. With the passing of a few months, in the fifth month my husband got a job and we have been making progress", says Elibeth, who appreciates the intervention of Provivienda. "I am super grateful because of how I was, at zero, with no one to answer for us, to raise their hands for us, they did it, and they have taken us by the hand to have this independence."
But although Elibeth and her family have been In the Canary Islands for two years, they have already spent twice as much time away from their native Venezuela. "We have been outside of Venezuela for four years, we were in Chile for two, and the one who suffered the most outside of Venezuela was the child. We adapted very quickly, but he had a very bad time, "she recalls.
The reasons for leaving were "in the first place due to insecurity", he admits. "We are a 30-year-old couple, with four children, two girls in Chile, who were the ones I was able to get out first, then I left and then the man stayed, for economic reasons. For here, for Europe, it was very expensive all together, so the easiest part of the plan was to go one by one to Chile, which was the most economically and politically stable until then, "he explains.
She says that her daughter and her husband had an attempted kidnapping. "They lost the vehicle, a car of the year, we had a small family business, all very stable, with life made, your house, your retirement, but the issue of insecurity, the attempted kidnapping, two armed robberies, was too much and we dare to go out".
The other reason, the political, also influenced. "My husband is an activist. They began to receive threats from groups that began to arm themselves in Venezuela, and there crime is associated with settling scores, and you can't do anything, if they kill you they say it was for robbery, but not for a political issue.
After making the decision to leave, they did it separately. "I took the oldest one out when she finished university, then the other one, and we also went out. And the man got stuck with all this, "he says. "The pandemic caught him, and then getting a passport is an odyssey; economic first, and then they deliver it to you. He no longer wants to leave, he stayed in Venezuela. When he had to be on the street, he and they helped us with the little they could send us, "he adds.
When asked if she wants to go back, Elibeth says that, "at the beginning we had the idea of ​​going back, but today my husband is in college, he has a job, and I have an 11-year-old boy who I don't want to condemn, I want to to form and develop. In Venezuela now everything is a visa and a reference, it would be to sentence him to jail. Here we want to buy a house. Age scares us, and not having quoted years, or a series of references, but we like it a lot, it is the closest thing to the Caribbean", Elibeth ends with a laugh.